Nortonline.gr
Cloud services for all
Serving more than 1,000 companies that rely on the accuracy of the company's products information, Nortonline needed a reliable online solution for electronic transactions. This is the reason why, they turned on the Windows Azure platform, providing high quality services to their customers without increasing operating costs.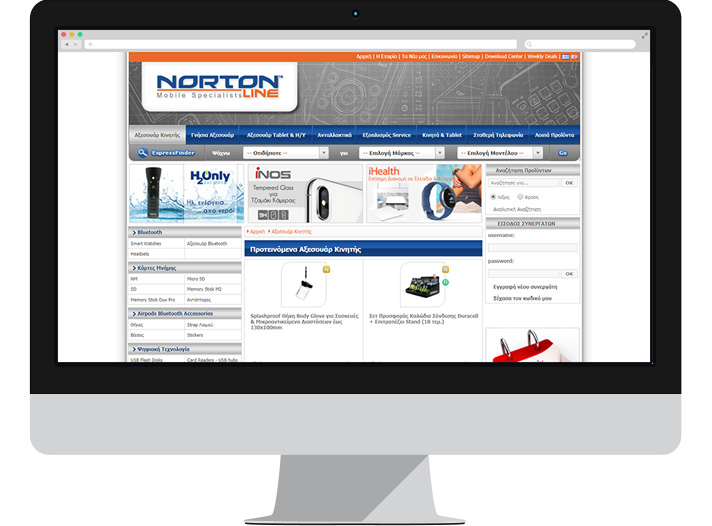 visit
NM Store Advanced
NM Product
Microsoft products
Microsoft Exchange Server
Windows Azure
services
Consulting Services
Enterpise solutions
EPR interconnection
---
Description
Nortonline is a commercial importing company of wholesale distribution of telecommunication products. It is the main supplier of telecommunication store chains for Greece and Cyprus. Its activities are focused on wholesales, therefore with the help of the company Netmechanics has developed an electronic trading system.
Its purpose is to achieve for its customers faster ordering, immediate information on prices and products, transaction security, but also to minimize its operating costs.
---
The problem
Nortonline serves hundreds of companies every day by supplying them with its products. With a client list that exceeds one thousand companies throughout the country, the company tries to maintain a high quality of services. To achieve this it must regularly inform its customers about the variety of products it offers as well as their current prices. And it should be able to do all this without increasing its operating costs.
So a way was sought that would have clear procedures regarding the operation and handling by staff, In this way customers would be easily and in real time informed about the product range, availability of these and of course their price.
At the same time, Nortonline customers, that have also modern information systems, demanded from their supplier to automatically provide them with the required information, even when the physical store is closed and in such a way that it can be easily processed by their systems, while at the same time this information can be linked to their ERP.
Based on the general needs of the company, Nortoline had procured an ERP system which contains all the information about their products (photos, descriptions, availability, product compatibility, etc.). However, this information was confined to the narrow context of the internal IT. So a way should be found for the information to be "externalized",in order to make the information accessible to others.
---
The Azure Solution
Equipped with modern tools provided by Microsoft, Netmechanics designed and developed a system that solves the mentioned problem. Initially, Nortonline purchased new servers running Small Business 2011 and Premium Addon.
So the basis for the exchange of information was created, while in this way the issues of internal information and organization were resolved, using solutions such as Exchange 2010, SharePoint 2010 and the new Web Outlook Access.
The ERP database is now running on SQL Server 2008 R2 without problems.
Considering the demand of Nortonline customers, Microsoft's latest cloud solution, the well-known Windows Azure, was chosen. Combining five Azure services, an extremely reliable solution has been created which consists of the following services:
Blob Storage
Content Delivery Network Service
Hosted Services
Database
Datasync
Through the above Azure cloud services and with the help of Netmechanics, Nortonline managed to:
• Provide photographs of products, directly available to the final customers.
• Have a database with information about the products (codes, titles, descriptions, prices, availability etc.) which in combination with the DataSync service is synchronized with the data of the company's SQL Server every 5 minutes!
• Have installed the Information Service (WebService) and serve Nortonline customers 24 hours a day, with real-time updates.