eShop.bonstudio.gr
For the musician of Today!
Products and services that cover the entire field of sound and audio applications. Sound and Lighting Systems.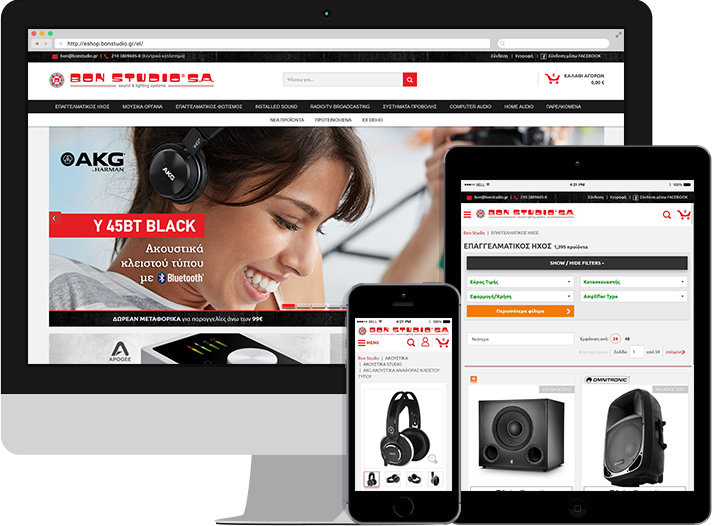 visit
NM Store Advanced
NM Product
Microsoft products
services
Enterpise solutions
EPR interconnection
Hosting
Mobile first design
Server-side coding
---
Description
The Company exclusively represents a significant number of manufacturers of Professional Systems of Sound, Lighting, Audiovisual systems and electronic Musical instruments of high technology and quality, from all over the world.
At the same time, it implements integrated solutions and applications in the fields of Radio, TV Broadcasting and Cinema.
The areas of activity are covered with a demanding organizational structure and specialized departments that provide complete solutions with proposals, studies, procurement, installation and finally, delivery in full operation of all systems.

DEPARTMENT of PROFESSIONAL SOUND
Products and services covering the full range of sound and audio applications
DEPARTMENT of ELECTRONIC MUSICAL INSTRUMENTS & HEADPHONES
Music products and Multimedia applications
DEPARTMENT of DIGITAL APPLICATION
Products and services for digital processing, sound & video recording
DEPARTMENT of PROFESSIONAL LIGHTING
Lighting systems and applications covering the demands of professional lighting for interior and exterior use.
DEPARTMENT of RADIO & TV EQUIPMENT (RADIO/TV BROADCASTING)
Products and specialized services for On-Air applications
DEPARTMENT of CINEMA & AUDIOVISUAL SYSTEMS
Cinema and projection equipment, Conference & translation systems, specialized applications