Cosmossport.gr
All sports goodies on the cloud
Cosmossport is not an ordinary sportswear company. On the contrary, it takes the lead in offering a different image to sports fans, in order to find new trends of the highest quality in fashionable sporting goods and casual wear.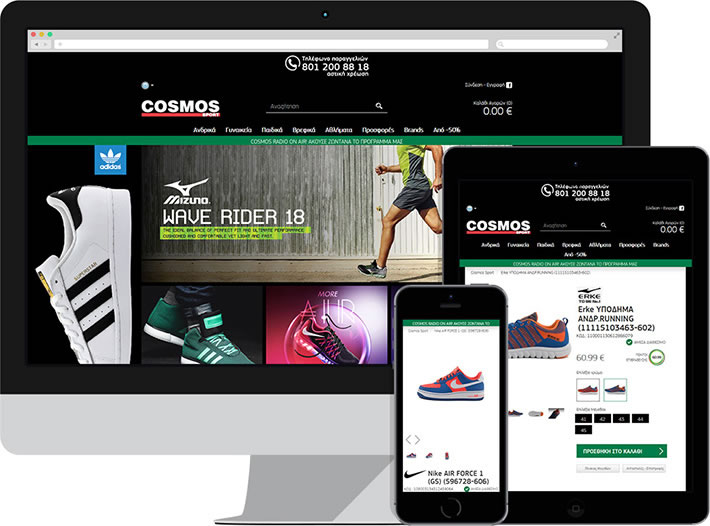 visit
NM Store Advanced
Description
COSMOS SPORT SA started its activities in September 1991 with the creation of the first Cosmos Sport - store, selling sportwear in Heraklion, Crete, while today numbers 18 stores.
It is the first sports retail company in the region of Crete and one of the three biggest in the country.
---
The need
As part of company's development, an e-shop was designed and developed (www.cosmossport.gr), in order to expand its customer base throughout the country.
The operational requirements of the system were specific:
The products actually available in the warehouse should be displayed to the consumer in the online store

The commitment of the products should be done directly from the warehouses

Orders to be processed in the minimum time

The system to respond when in high demand
For the above reasons the implementation was On Premise and included more specifically the following systems / procedures:
Server purchase
Electrical installation with UPS
Cooling systems
Security systems
Network infrastructure
Leased landline
Systems management costs
---
The Problem
All the above constituted a negative factor for the performance of the e-shop. In addition the resources were specific and an upgrade would translate into additional costs for the company.
---
The Solution
The solution to the problem was given by Microsoft with the whole set of their products and services as they are described below.
• Windows Azure Content Delivery Network (CDN). With this we released the photographic material of the products from being given through the website. High availability and high-speed data transmission lines are translated into an advantage for the online store.
• Windows Azure SQL Database + DataSync Service (PaaS). In order to achieve complete update of the website from the Cloud with information about the pricelist - availability of products and by taking orders and synchronizing this information with the ERP of the company.
• Windows Azure Virtual Machines. The e-store was designed and implemented using Java Servlet technology with Tomcat container on Linux OS. This was not an obstacle because with Windows Azure Virtual Machines (IaaS) technology we managed to set up a Linux Virtual Machine. Now we can configure in real-time the availability of the computing power or the memory of the Virtual Machine.
• Windows Azure. The most important is that with Microsoft's Cloud technology we elliminate the costs mentioned above in an On Premise installation.
Benefits
Now COSMOS SPORT SA can:
focus on its sales and the quality of its products and services, having the confidence that the information system will operate continuously 24/7 365 days a year.
use the costs from the operating costs he has saved, by moving to the Cloud, in the development of the company.