Success Stories
Success Stories
The company has earned several various national awards that demonstrate the most reliable IT business solutions, as well as the expertness to implement complex and high-performance projects, required in the global business arena.
In 2015 at the Business IT Excellence (BITE) Awards, Netmechanics won:
• The Silver Prize for Special Applications for Proactive e-farming software
In 2016, at the E-Volution Awards won:
• The Distinction in e-Commerce Award for successful and innovative practices applied at the online store markakis.gr.
• The Bronze Prize for Eshop Cloud Infrastructure of Cosmossport.gr, an online store of which operates continuously 24/7 and 365 days a year, serving more than 60,000 electronic users.
In the same year, due to company's collaboration with the news portal, cretalive.gr, won at Regional Media Awards (national awards for local and regional media) the following:
• Silver Award in Best Tablet Edition and
• The Bronze Prize in Best Mobile Edition
The new year begins with another distinction for Netmechanics, at the Lighthouse E-volution Awards 2017, where the company won:
• The Distinction in e-Commerce award for the new specialized online ticket booking service ktelherlas.gr for the KTEL of Heraklion-Lasithi
Read more here: Source http://www.cretalive.gr/crete/eksi-ethnika-brabeia-gia-thn-netmechanics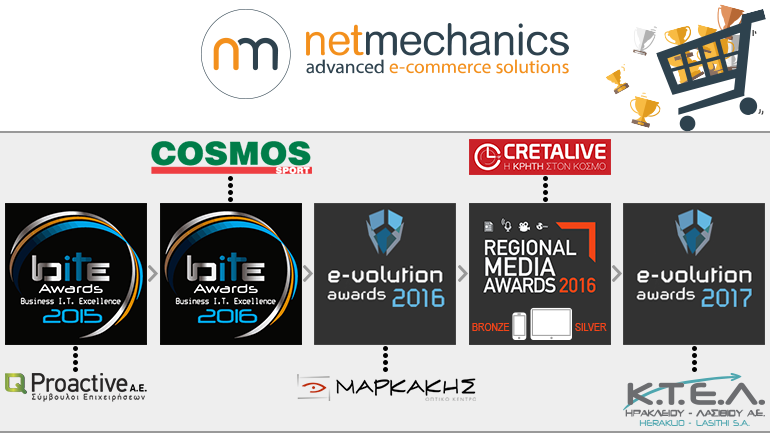 "Now, we can serve even 60,000 unique visitors to our online stores and everything works flawlessly..."
Read more here: Source: Microsoft : https://www.microsoft.com/customer-success-stories/cosmos
CosmosSport.gr teamed up with Netmechanics Advanced E-Commerce Solutions to ensure the quality of its systems and the long-term success of its business plan, and to maintain high online sales.
Source: http://netweek.gr/default.asp?pid=9&la=1&cID=5&arId=32324
"The rapid growth of e-commerce requires secure cloud-based solutions": Netmechanics Advanced E-Commerce Solutions reported in a special report by Netweek magazine.
"By using cloud to our customers, we deliver maximum data security and fast loading page, uninterrupted operation of systems and immediate high-volume ordering." Their projects gain high availability with 100% uptime and autoscale and becoming "smarter" by using Business Intelligence tools, ensuring increased sales."
Read more here Source: www.netweek.gr