Kalogeraki.gr
With respect to tradition and emphasis on quality
With the new dynamic online presence of its pure, authentic and rich in nutritional products, Kalogerakis SA can now dedicate itself exclusively to its vision: the spread of Cretan products beyond the borders of the Greek market, the transmission of Cretan culture and the proper information about the so healthy for all of us Mediterranean diet.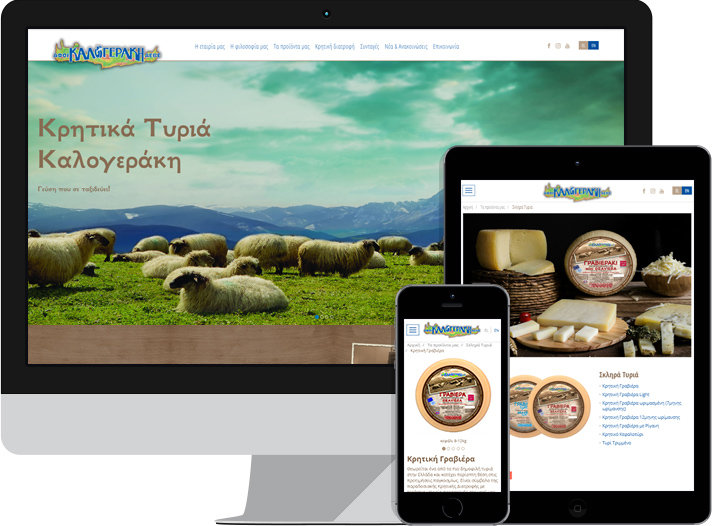 visit
Attribute1135
NM Product
services
Client-side coding
Hosting
Mobile first design
Server-side coding
---
Description
Kalogerakis SA is a family business that has been active in the dairy industry since 1949.
With art, passion and respect for tradition, she managed over the years to become one of the largest dairies in Crete while maintaining its family character.
---
The need
Looking for a reliable solution for the complete redesign of their website, the owners of the company asked for the help of Netmechanics. The new website should focus on the following points:
The redesign should be done with a clean and simple visual design with a modern style that emphasizes the content and adapts to modern smartphones & tablets.

The navigation should be easy to use, so that the user can find what he is looking for quickly and easily.

All content should also be available in English.
---
The solution
Netmechanics's team of experienced technicians redesigned the site using the tools required by modern technology, ensuring a sure success. New system features include:
The easy and fast management of the displayed products.

The possibility of subscribing customers to the company's newsletter.

The display of all company certifications in a prominent place on the website.

The display of all the exhibitions in which the company has participated, with information and photos for each.

The ability to add, edit and view multilingual content.

Responsive design that adapts to smaller screens such as mobile phones or tablets so that the aesthetics of the site is not altered.
---
Benefits
Through the above services offered by Netmechanics, Kalogerakis SA can now:
to promote its products in a modern and elegant internet environment,

to increase its overseas sales and

to spend less time managing the content of the site.