Forma.com.gr
Wooden constructions
Production of wooden exterior tilting frames and security entrance doors, of exceptional quality and design for residential and business premises.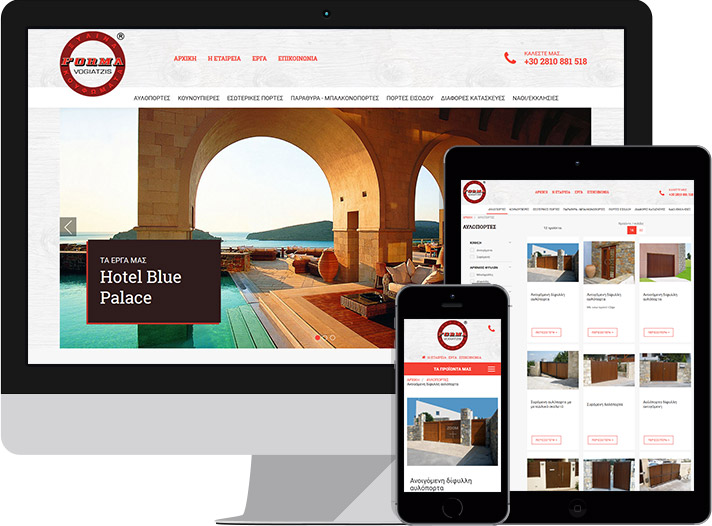 visit
Attribute1135
NM Product
Microsoft products
Microsoft Exchange Server
Windows Azure
Windows Azure Content Delivery Network (CDN)
Windows Azure SQL Database + DataSync Service (PaaS)
Windows Azure Virtual Machines
services
Client-side coding
Consulting Services
Enterpise solutions
Hosting
Mobile first design
Server-side coding
---
Description
The company was founded in 1974 by Voyiatzis Manolis and Vogiatzis Georgia, having as main object the manufacture of furniture and hotel equipment.
Today, with the entry of the second generation in the field and after more than three decades of experience, the company continues development and presence in the field of wooden constructions, with modern means of production, continues the production of wooden exterior tilting frames and doors security entrance, excellent quality and design that meet the needs and aesthetics of your modern home and business space.
Following the modern needs of the market there is a need for the company of an organized presentation of all their products. Netmechanics provided this opportunity, implementing the website to present the company and its products.
Through the study of the needs of the company and its customers, the following features were given on the web site:
• Presentation, finding and classification of all the company's products.
• Integration of a content management system (CMS) with easy user management and dynamic creation of unlimited categories - subcategories.
• View Company's Portfolio.
• View contact details - address, phone, e-mail - as well as the possibility of direct communication of the visitors of forma.com.gr directly with the company through the contact form, which is available for each product.
• Presentation of the exact location of the company through an interactive Google map.
• Use large, good-quality photos with good resolution..
Through the above services offered by Netmechanics, the company can now:
• promote and organize its products in a dynamic and user-friendly online environment.
• customize product information, as desired by the user.
• facilitate the service and information of its customers.